Hi guys! Greeting from the Merc Pit! I know it's been a long time since I posted. Sorry. I've had an interesting (frequently in the sense of the ancient Chinese curse) life for a bit but I'm happy to say that it's all back to normal-ish, and since normal-ish is about the best that I've ever managed, I'm going to run with that.
I've got to tell you all. I'm stoked.
The Mercenary Guild is at three hundred and eighty-eight members already. The number continues to rise. We're unstoppable. We've gained a critical mass now.  The Guild has gone overseas and across international borders with members in Britain, Canada, New Zealand, Germany, China, Chile, Portugal, Italy and Mexico. Our appeal, and our mission, are global. Four Horsemen for Earth is not just a slogan, it's a reality.
We're in the process of standing up our first companies. Applications are being accepted and tests are being given to potential leadership. Rumor has it that there may even be one goofy Major in Michigan looking to start a local chapter. The excitement is palpable and the future is bright.
Oh, and just to get you all a little more excited, let's  see a couple of cosplays.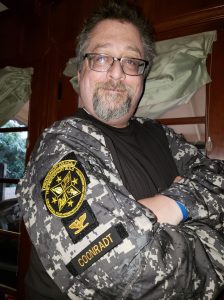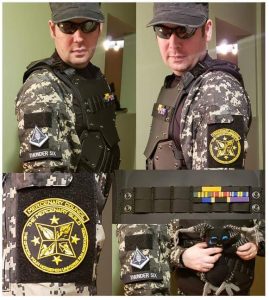 That's Colonel Tom Coonradt on the left and Lieutenant Colonel Jamie Ibson on the right. Looking good fellas!
At the end of the day, The Mercenary Guild is all about enjoyment. Some people love making cosplay. Some people love wearing cosplay. I'll be attempting my first one soon. What I really love is seeing cosplay. So show me some.
Here is my pledge to you:
If you send me a link (mercguildpa@hotmail.com) of yourself or another member in a TMG cosplay, you will see it here. I want to show you off. And yes, I want to see it for my own benefit too, just because I think it's cool. Is that such a bad thing?
This is an awesome org to cosplay in too, because each company gets its own uniform. Your chapter can design it, love it, wear it and show it off. I'll help you show it off. That's what I'm here for.
I want to see all of your stuff once it's been approved. Send me your cosplays, your insignias and any backstory you've created for your unit. My job is to promote the club. I can do that best by promoting you. So let's see it!